time:
7:00pm social hour 8:00pm presentations
Mar 28 2018
place:
DNA Lounge
375 11th St.
San Francisco, CA
Map
RE/Search will be there for all your alternative culture needs!
Free admission but $5-$20 donations for our hosts much appreciated


DNA Lounge
375 11th St.
San Francisco, CA
Doc Pop - God Hates Dinosaurs
Doc Pop gave out 1,000 fake-religous comic books to strangers. Here's what happened.

Jack-of-all-trades musician, artist, dramatic yo-yoist, and video/board game designer-wizard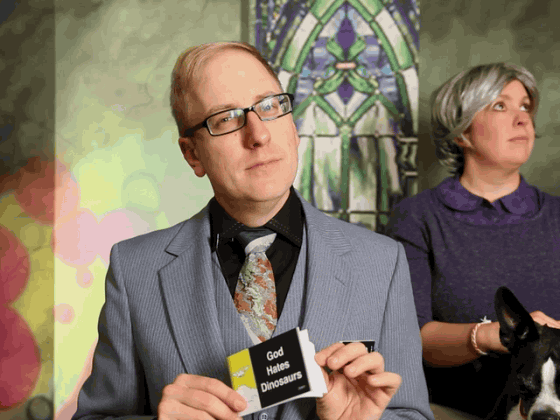 Marque Cornblatt - Drone Racing, Robot Combat and eSports - An Education Power-Up: One Man's Personal Journey from Pong to the Museum of Future Sports
Technology and sports are powerful influences on youth. The explosive intensity of robot combat has an undeniable appeal. Drone racing is one of the fastest growing sports in the world. Professional videogames are have become a global phenomenon, eclipsing the viewership of traditional sports like NASCAR and the NFL. How can these addictive forces be leveraged for good? Can tech and eSports be an effective way to engage kids in math, coding and engineering? Marque has been playing with video games, robots and drones since childhood and is now creating compelling STEM education opportunities for students of all socio-economic backgrounds with the launch of the Museum of Future Sports.

Marque has created award-winning art and media for years, earning millions of social media followers and viewers. Marque helped launch the drone sports revolution in 2013 with his innovative use of experimental hardware, wireless video and social media. Often cited as a pioneering researcher in the field of telepresence robotics, Marque's presented iSparky at TEDx San Francisco in 2011. His followup 2016 TEDx Hollywood presentation on flow state, brain chemistry and sports technology helped inspire multiple STEM programs and curricula. Marque's kinetic art and short films have been exhibited at the SFMoMA, San Jose Museum of Art & The San Jose Tech Museum and he recently celebrated 25 years as an artist with a major East Coast retrospective. Marque is currently CEO of the Aerial Sports League, a global drone entertainment company.